Digital continuity and the FAI – White Paper
8 November 2023

Posted by:

Maélise ROBERT

Category:

Actuality

,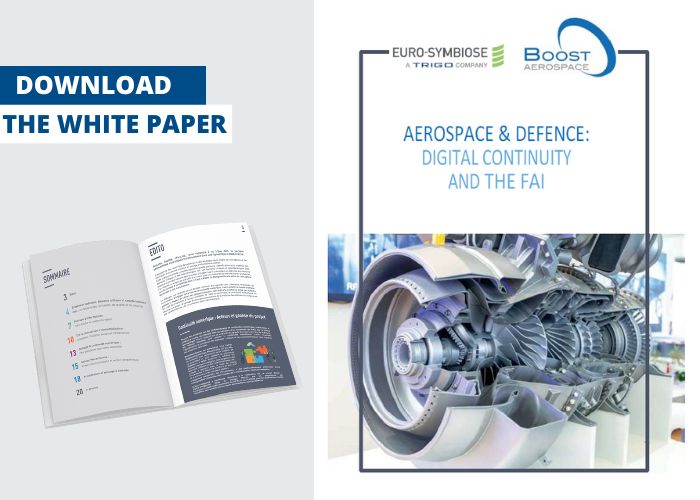 FAI (First Article Inspection) is an important issue for the entire aerospace supply chain, as it helps to give customers confidence in the feasibility of supplying the product and to meet the sector's standards requirements.
Euro-symbiose has collaborated with BoostAeroSpace to create a white paper on FAI, outlining the key points and best practices on the subject and how digital continuity can serve FAI.
Would you like to find out more and share these recommendations with your organisations?
Click below to download the white paper free of charge.
All the information collected in the context of this questionnaire is confidential and will not be communicated to a third party without prior authorisation or after anonymisation of information that may directly or indirectly associate the company and/or the person who responded to this survey. BoostAeroSpace associates the information communicated in this form with the "BoostAeroSpace Industry Confidential" classification, defined in the BoostAeroSpace security policy, data classification appendix available on the BoostAeroSpace website.
Pursuant to the amended French Data Protection Act of 6 January 1978 and European Regulation No. 2016/679/EU of 27 April 2016, you have the right to access, rectify, limit and, where applicable, delete your data. You may also object, on legitimate grounds, to their use. You can exercise your rights, by providing proof of your identity, by sending a request by post to EUROSYMBIOSE, 5, rue Thomas Edison 44470 CARQUEFOU by email to contact@euro-symbiose.fr