FORMATION
MLA – project management in the German automotive industry according to VDA (Maturity Level Assurance for new parts) – #933

Training in partnership with the VDA-QMC
About Instructor

Raoul NICOLET
Speciality: Raoul has spent more than 35 years in the automotive sector, working for renowned automotive suppliers such as VALEO, HUTCHINSON and GRUPO ANTOLIN, in the fields of quality, industrialisation, production, project management and supplier management.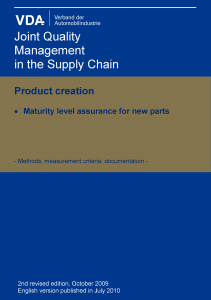 The Maturity Level Assurance for New Parts guide is included.
Formation type
Open or in-house training session
Realisation modality
Onsite (Open : lunch included) or remote sessions.
Validation
Official VDA QMC certificate of qualification
Number of participants
Minimum : 4
Maximum : 12
Discounts
Register several trainees for our Open training sessions and benefit from our special offers
-20%
discount for the 2nd participant
-50%
for the 3rd and each additional participant
For registrations to the same training session.
Registration training
OPEN TRAINING SESSION
IN-HOUSE TRAINING SESSION
08 December 2023
9 remaining places
Remotely
To obtain a quote for an in-house training :